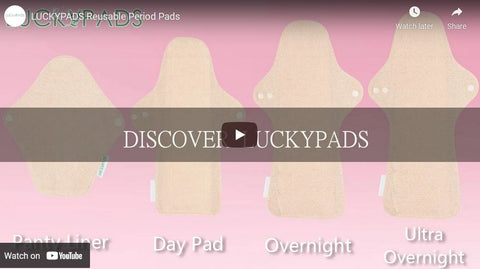 Not sure when your period is coming?  Our reusable pantyliners are the solution for pre and post-period daily protection, can work as period panties or menstrual cup backup too.
Product Description
• Material: The top and bottom layers of our pads are made with GOTS Certified Organic Cotton, without harmful bleaches or chemicals. Absorbs leaks and odors in seconds, keeps you clean and 5X drier feeling all day long.
• LEAKPROOF:  There is a leakproof layer inside, inside coating is made of high-quality TPU which allows air to flow through while resisting water. 
• Stay in Place: The high-quality snaps on the wings are easy to open and close, greatly keeps the pantyliners for women from bunching in case for leaking on the sides and minimize the allergic reaction. Snaps are 100% recyclable.
• Healthy Planet: Degrade within 1-3 years, help the environment by reducing landfill waste
• Save Money: 1pc = 200pcs disposable pantyliners, save tons of money in the long run.
• Promotion: Free domestic shipping for the United States and Canada customers!!
• Package Include: 3 pieces reusable pantyliners(each comes with the sealed package, safe & sanitary)

Why LUCKYPADS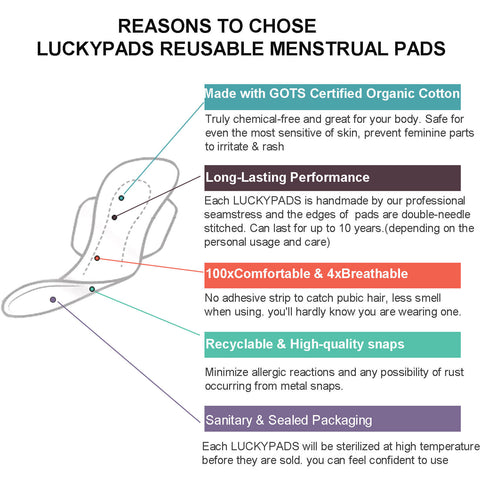 ORGANIC COTTON VS BAMBOO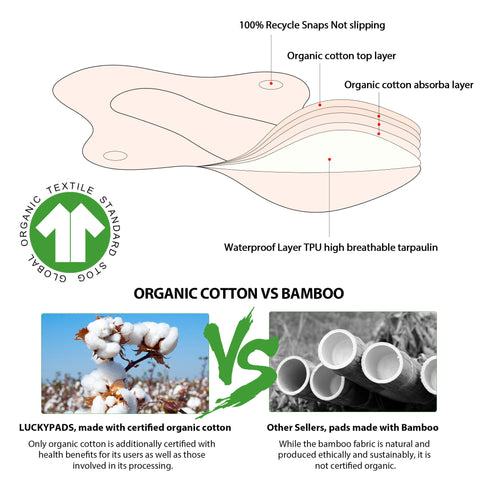 Fit for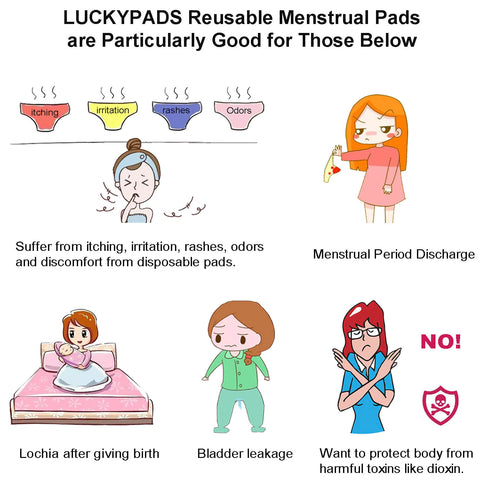 Notice:
• Wash before first use.
Welcome to see our FAQ for even more information.
Customer Reviews
12/12/2018
These were so amazing I felt that I needed to share. The touches your body is cotton. Being that all my underwear is cotton, and these panty liners are cotton, it felt exactly like I was wearing regular underwear. These pantyliners are not thick at all, and are surprisingly absorbent in comparison to their overall thinness. They also have a waterproof lining in them, so even though they are thin you do not have to worry about leaks. They are rather pricey, and I tend to be a cheapskate, but these are absolutely worth the money and I won't buy anything else.
12/12/2018
Super excited to try these liners! Soft and ultra thin.
12/12/2018
Exactly as described- excellent quality. The fabric of this panty liner is organic cotton, toxins free. Unlike disposable panty liners, they don't have a sticky backing. However, they stay in place with snaps on the wings. Love it. Fast shipping. 100% satisfied with this transaction!
12/12/2018
Everything corresponds to the description and order (color/size as ordered-without surprises). Delivery is fast, meets the deadlines. Very satisfied with the purchase!!! Seller recommend.
12/12/2018
Switching to reusable cloth pantyliners was the best decision ever! There is no more itching and chafing caused by plastic reusable, I wasn't even aware how uncomfortable these were until I switched to reusable pads. These are my choice for over a year now. I feel better and healthier and happier because I know I'm not damaging the environment.