Our reusable menstrual pads light flow kit is tailored for those with a light flow or moderate flow. 
Product Description

• Material: The top and bottom layers of our reusable menstrual pads are made with GOTS Certified Organic Cotton, without harmful bleaches or chemicals. Absorbs leaks and odors in seconds, keeps you clean and 5X drier feeling all day long.
• LEAKPROOF: Inside coating is made of high-quality TPU which allows air to flow through while resisting water. 
• Stay in Place: The high-quality snaps on the wings are easy to open and close, greatly keeps the reusable menstrual pads for women from bunching in case for leaking on the sides and minimize the allergic reaction. Snaps are 100% recyclable.
• Healthy Planet: Degrade within 1-3 years, help the environment by reducing landfill waste
• Save Money: 1pc = 200pcs disposable pads, save tons of money in the long run.
• Promotion: Free domestic shipping for the United States and Canada customers!!
Package Include:
• 3 pieces pantyliners 7.0*5.9 inches(sealed condition)
• 6 pieces day pads 11.00*7.87 inches(sealed condition)
• 3 pieces night pads 13.38*7.87 inches(sealed condition)
• 3 pieces night pad plus 15.75*7.87 inches(sealed condition)
• 1pc LUCKYPADS wet bag
Why LUCKYPADS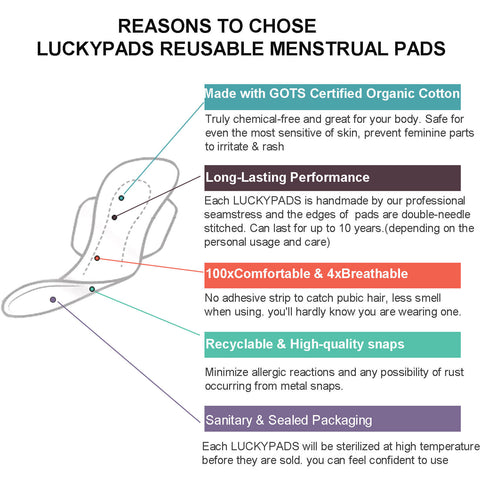 ORGANIC COTTON VS BAMBOO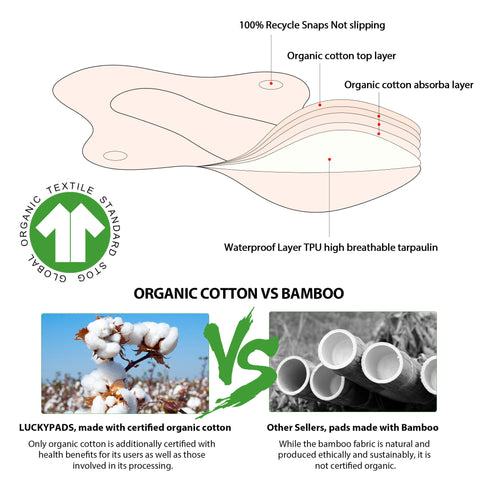 Fit for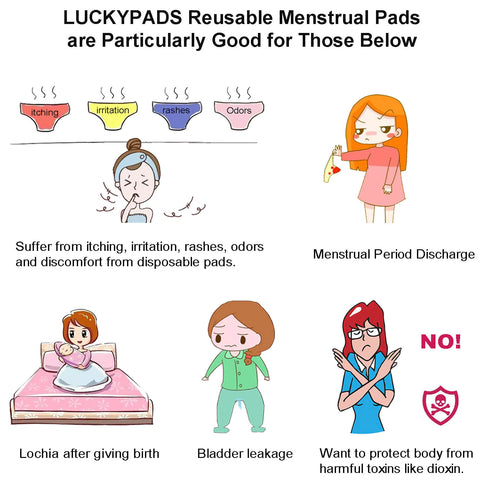 Notice:
• Wash pads before first use.
Welcome to see our FAQ for even more information.
Customer Reviews
12/12/2018
These pads are so incredibly luxurious with their soft material. I experienced zero leakage with these, even when I pushed the limits on how long I should wear them before changing to a new one, I also saw no staining. They are one of the most affordable options, too.
12/12/2018
I have a few pair of period panties that were pretty expensive, so I wanted to try a cheaper alternative for my lighter days and these work perfectly for me. Very soft against my skin and I don't get that wearing a diaper feeling. They wash well too. (I use their cold process soap) I washed them a few times before I used them the first time and I haven't had any issues with absorbency.
12/12/2018
I'm actually a first time user so I can't compaire to other products. The slippage on these is minimal and easily adjusted when I go to the restroom. I don't do a lot of physical movements at this time of the month so can't tell your if the slippage would be worse because of exercise. The padding is soft, making this perfect for those lighter days. The colors are pleasent. I am finding these easy to use and will continue using them. To clean then I simply soak them in a sink for 1-2 hours, then rinse with cold water. Then I use their soap and handwash. I let them air dry. So far no issues with any of the seams, pilling or color fading.
12/12/2018
I have been using Luckypads for 2 months and I love them! I have some in each size which covers my range of needs throughout my period and for nighttime also. They are easy to wash and dry. And they stay in place well, and are comfortable. I highly recommend them!
12/12/2018
This is such a good value! PERFECT! Never had a problems with these. They are comfortable and do not leave no odor. Very friendly on your pockets. Allot better than expensive brands.