Reusable pads kit for super heavy periods. It is designed especially for those of us with super heavy flow!
Product Description

• Material: The top and bottom layers of our reusable pads are made with GOTS Certified Organic Cotton, without harmful bleaches or chemicals. Absorbs leaks and odors in seconds, keeps you clean and 5X drier feeling all day long.
• LEAKPROOF: Inside coating is made of high-quality TPU which allows air to flow through while resisting water. 
• Stay in Place: The high-quality snaps on the wings are easy to open and close, greatly keeps the reusable pads for women from bunching in case for leaking on the sides and minimize the allergic reaction. Snaps are 100% recyclable.
• Healthy Planet: Degrade within 1-3 years, help the environment by reducing landfill waste
• Save Money: 1pc = 200pcs disposable pads, save tons of money in the long run.
• Promotion: Free domestic shipping for the United States and Canada customers!!
Package Include:
• 3 pieces pantyliners 7.0*5.9 inches(sealed condition)
• 3 pieces day pads 11.00*7.87 inches(sealed condition)
• 6 pieces night pads 13.38*7.87 inches(sealed condition)
• 6 pieces night pads plus 15.75*7.87 inches(sealed condition)
• 1pc LUCKYPADS wet bag
Why LUCKYPADS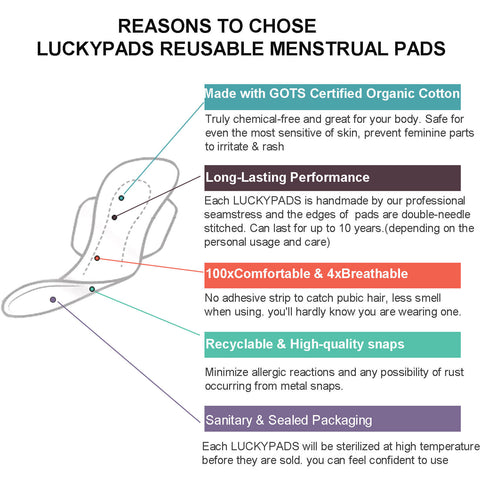 ORGANIC COTTON VS BAMBOO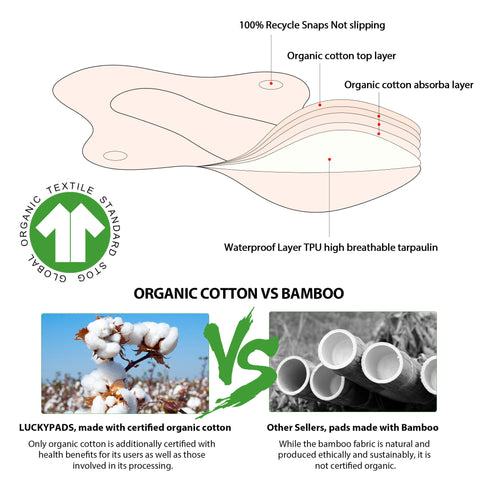 Fit for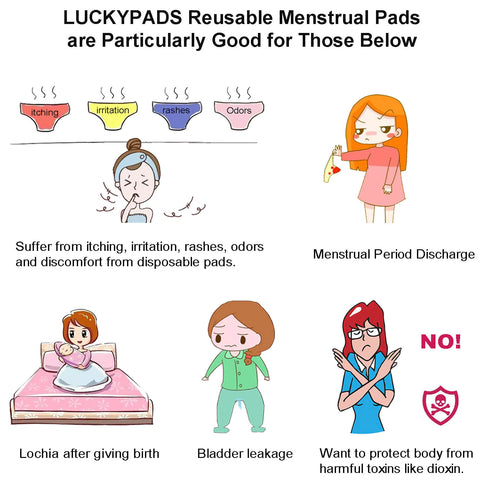 Notice:
• Wash pads before first use.
Welcome to see our FAQ for even more information.
Customer Reviews
12/12/2018
These are totally among my top favourites! So soft and luxurious-feeling, and extremely high quality workmanship. They are breathable and they are very fast-drying. These pads are perhaps the most comfortable ones I tried. Also-zero staining on these.
12/12/2018
I use the daily liners and medium and heavy period pads and all of them are amazing. The pantyliners are soft and comfortable, I Love using them while knowing that I am not using the disposables with chemicals. The period pads are extremely absorbent and do not make a mess but keep things very clean. They don't leak and are also super comfortable and soft.
12/12/2018
I have been very disappointing in many of the pad brands that I have tried in the past. They move, bunch, and leak. I happened to see these luckypads randomly online one day and thought I would give them a try. I have been using the Luckypads for heavy flow for a few months now and I LOVE them! The absorbency is awesome! No more leaks! Not to mention... this pad stays in place! EVEN THE WINGS! This pad stays in place securely! You need to try these if you are very active, working out or just need a comfy,absorbent, and thin pad that stays put! PLEASE NEVER STOP MAKING THIS PRODUCT. I finally don't mind my period!
12/12/2018
These are now my absolute favorite resuable pads!!! The design is what my curvaceous body needs, the length is great, but the absolute best is how thin they are! I forgot I was wearing them, they are that thin & comfortable. Today was my second day wearing the "night pads" size, which I wore during the day to see if they'd stay in place before attempting to wear it at night. They stay in place, absorb well, rinse easily, stitching is well done, and they have very pretty fabrics. These reusable menstrual pads are definitely "the best" in the 3 or 4 different brands I've tried, and I will definitely be ordering another set.
12/12/2018
If you are thinking you would like to try cloth pads these are the ones I would whole-heartedly recommend. I was curious about cloth since I was having sensitivity issues with disposable pads. Since I have switched I am feeling a whole lot better! I bought the set and after a bit of troubleshooting (making sure I had the pad in the right place and that my panties were wide enough to prevent slipping) I am in love. I am a heavy flow gal and have not had an issue. These pads can handle it. They are also very easy to clean. I rinse them out right after I take them off and if they need it add a bit of peroxide to help with cleaning them. Then I stash them until wash time. I wash them with just a bit of my normal laundry soap and vinegar. I will be buying more soon!