Is your underwear always wet? Try this thin&breathable daily wear washable panty liners. A perfect travel companion, can work as panties. Attention: because it is without a waterproof layer, it can not be used for light days.

Product Description
• Material: Total 2 layers. Made with 100% Certified Organic Cotton, without harmful bleaches or chemicals, that is safe for even the most sensitive of skin. 
• Stay in Place: The high-quality snaps on the wings are easy to open and close, greatly keeps the washable panty liners for women from bunching in case for leaking on the sides, and minimize the allergic reaction. Snaps are 100% recyclable.
• Dimension: 7 inch (L)*5.9 inch (W)
• Weight: approx 12g/pcs
• Healthy Planet: Degrade within 1-3 years, help the environment by reducing landfill waste
• Save Money: 1pc = 200pcs disposable panty liners, save tons of money in the long run.
• Ship From China
• Package Include: 3 pieces washable panty liners(each comes with the sealed package, safe & sanitary)
Why LUCKYPADS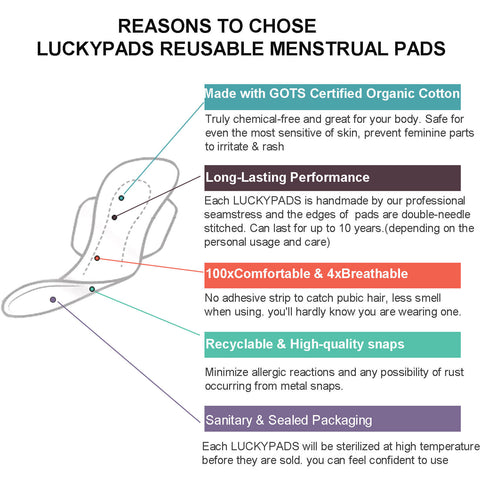 ORGANIC COTTON VS BAMBOO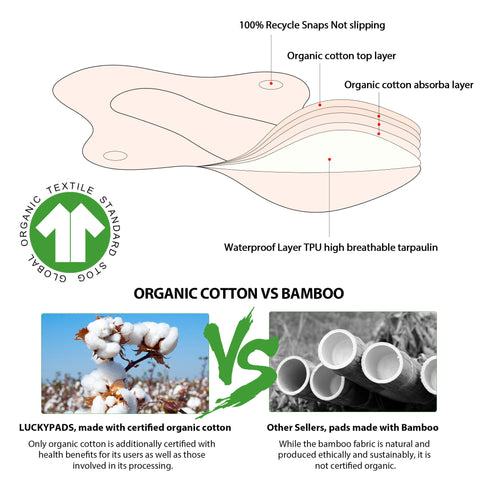 Notice:
• Wash before first use.
Welcome to see our FAQ for even more information.
Customer Reviews
12/12/2018
If you're interested in trying one for yourself, organic cotton panty liner are the best choice. Very comfortable and no harmful chemical. Good for you, your budget and good for the planet.
12/12/2018
Love the packaging and the organic products! Strongly Recommended!
12/12/2018
Perfect for daily use.. Soft and gently on skin. Wash and dry brilliant. Deffinetly worth the price. Wish I had bought them sooner.
12/12/2018
I am very pleased with these liners. They are very comfortable and more than I imagined them to be, particularly as they have a snap at the bottom. Not only are they more comfortable than disposable ones but they are also good for the environment - what's not to like. Also, I contacted the seller and I can confirm that the seller got back to me very quickly and the customer service was excellent. I would highly recommend purchasing from this company.
12/12/2018
I wear one per day, handwash it, and let it dry over the next day while I wear the other, for the most part they fit pretty comfortably. I love wearing these instead of trying to conceal-carry a panty liner with me every time, but I do recommend them.