Our reusable period day pads are designed for light to regular flow daytime needs. 
Product Description

• Material: The top and bottom layers of our reusable period pads are made with GOTS Certified Organic Cotton, without harmful bleaches or chemicals. Absorbs leaks and odors in seconds, keeps you clean and 5X drier feeling all day long.
• LEAKPROOF: Inside coating is made of high-quality TPU which allows air to flow through while resisting water. 
• Stay in Place: The high-quality snaps on the wings are easy to open and close, greatly keeps the reusable period pads for women from bunching in case for leaking on the sides and minimize the allergic reaction. Snaps are 100% recyclable.
• Internal Layers: 6 layers
• Dimension: 9.8 inch (L)*7.87 inch (W)
• Weight: approx 30g/pcs
• Healthy Planet: Degrade within 1-3 years, help the environment by reducing landfill waste
• Save Money: 1pc = 200pcs disposable pads, save tons of money in the long run.
• Promotion: Free domestic shipping for the United States and Canada customers!!
• Package Include: 5 pieces day pads(each comes with the sealed package, safe & sanitary)
Why LUCKYPADS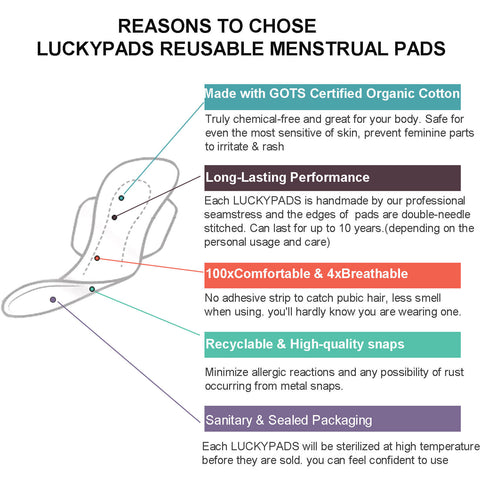 ORGANIC COTTON VS BAMBOO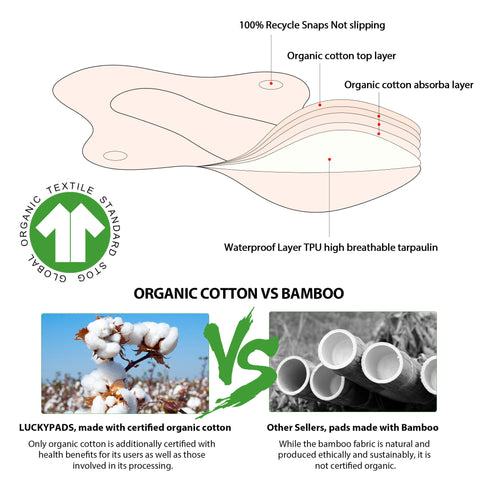 Fit for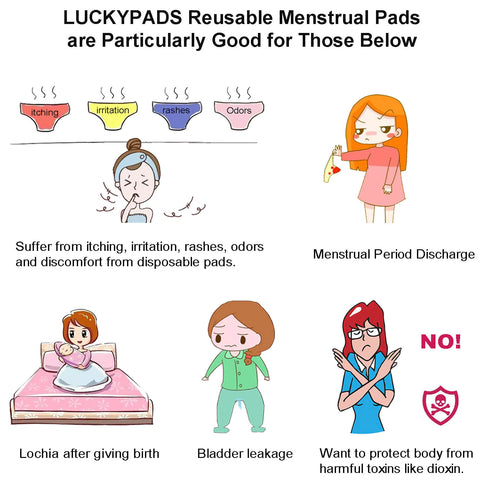 Notice:
• Wash pads before first use.
Welcome to see our FAQ for even more information.
Customer Reviews
12/12/2018
I cannot say enough good things about this product. The snap makes it easy for me to use them. They stay in place well. The material is soft and they absorb very well especially, for heavy periods. My periods are heavy and I am very pleased with them. These pads do not smell horrible like disposable pads do. Disposable pads irritate my lady parts, using these has solved that problem. In fact, they are very comfortable even in hot weather. They are affordable, healthy for me and the environment.
12/12/2018
I had made some of my own cloth pads in the past but really wanted to try out luckypads so during the stash dash I got my hands in a decent stash ans wowzers! Luckypads is my new best friend. So comfy and they absorb so well. Thanks for such a great product!
12/12/2018
Took me a long time to finally decide to give it a go and I regret I didn't sooner! Love the costumer service and cute prints! So much more comfortable and a huge impact on the environment, love the organic cotton material! Highly recommended!
12/12/2018
I absolutely love this product. Works so well. I use these every day during my period. They don't slide and they do offer enough protection. Love! Love!!
12/12/2018
I made the switch to reuseable pads and will never go back to disposables. I always heard of the chemicals and bacteria causing women to get sick from disposables but the real problem I had was just straight up discomfort from disposable pads to the point where I just couldn't take wearing them anymore. Once I switched to reuseable, I immediately liked that it basically feels like you are not wearing a pad. Do yourself a favor and make the switch.