Our cloth menstrual pads are customizable absorbency for regular to heavy flow daytime needs.
Product Description

• Material: The top and bottom layers of our cloth menstrual pads are made with GOTS Certified Organic Cotton, without harmful bleaches or chemicals. Absorbs leaks and odors in seconds, keeps you clean and 5X drier feeling all day long.
• LEAKPROOF: Inside coating is made of high-quality TPU which allows air to flow through while resisting water. 
• Stay in Place: The high-quality snaps on the wings are easy to open and close, greatly keeps the cloth menstrual pads for women from bunching in case for leaking on the sides and minimize the allergic reaction. Snaps are 100% recyclable.
• Internal Layers: 6 layers
• Dimension: 11.00 inch (L)*6.7 inch (W)
• Healthy Planet: Degrade within 1-3 years, help the environment by reducing landfill waste
• Save Money: 1pc = 200pcs disposable pads, save tons of money in the long run.
• Promotion: Free domestic shipping for the United States and Canada customers!!
• Package Include: 3 pieces day pads plus(each comes with the sealed package, safe & sanitary)
Why LUCKYPADS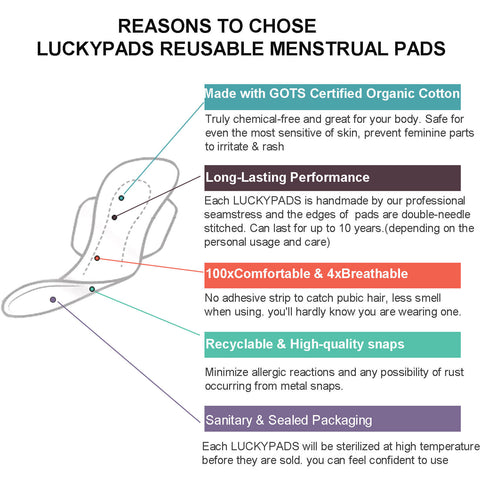 ORGANIC COTTON VS BAMBOO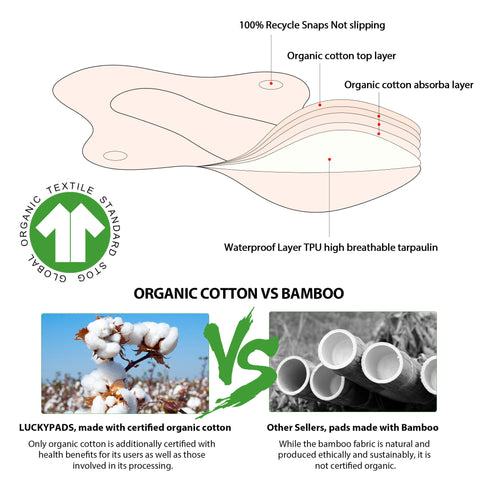 Fit for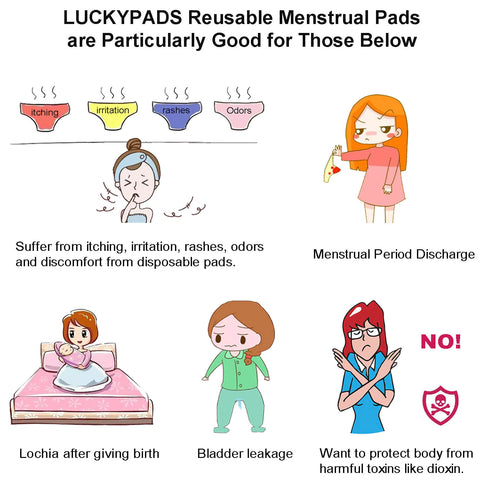 Notice:
• Wash before first use
Welcome to see our FAQ for even more information.
Customer Reviews
12/13/2018
These pads are the best thing I've ever bought. Super thin. Special design. Regular pads can irritate my skin after awhile, but these were very comfortable and soft. They stayed in place very well, had no absorbency issues at all. I decided to order the large size for night time, and may possibly order the smalls for light days as well.
12/12/2018
its pretty awesome !! i really happy by using of this product.
12/12/2018
I have used these pads for a long time, then wrote this review, I loved how long, thick and comfortable they were. they won't bunch up towards the center, they just stay in place. They are comfortable and highly absorbent. I have very heavy periods for the first 3 days and this product gave me peace of mind. Thank you Luckypads for producing a perfect fit product.
12/12/2018
Amazing!!! was referred to this product by a friend, and i love the coverage and comfort of the heavy flow pads.